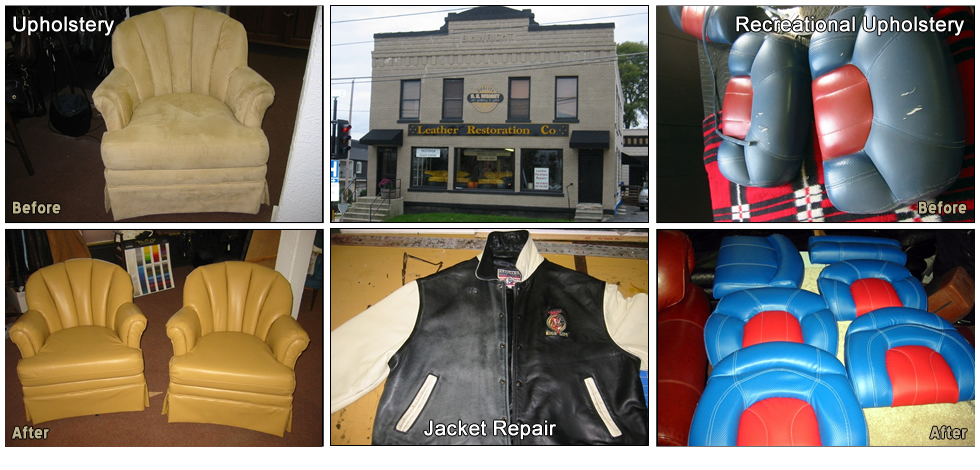 Leather Repair Waukesha

Leather Repair Waukesha offers a specialized repair service and professional results. Leather Repair Waukesha gives our customers a option to not throw away your leather furniture, but repair it. We can repair many types of leather products including, leather sofas, leather recliners, leather chairs, leather jackets, leather purses, leather saddlebags, leather car seats, automotive leather, and pretty much anything else made of leather.

Leather Repair Waukesha can save you the expense of replacing your leather. Just view our leather repair gallery and see the difference a good quality leather repair company can do to save your leather products and save you money.
Site Designed and Hosted by
Badgerland Marketing
Leather Repair, Leather Restoration, Leather Repair Kits, Leather Repairs, Repair Leather Furniture, Furniture Leather Repair, Leather Sofa Repair, Sofa Leather Repair,
Leather Couch Repair, Car Leather Repair, Leather Chair Repair, Car Seat Leather Repair, Refinishing Leather Furniture, Leather Furniture Repairs, Automotive Leather Repair,
Custom Leather Furniture, Leather Repairs Milwaukee, Leather Repairs Waukesha, Leather Repairs Illinois, Leather Repairs Wisconsin, Motorcycle Jacket Repairs,
Purses and Leather Bag Repairs, Saddlebag Repairs, Automotive Upholstery Repair, Winter Jacket Repairs, Airplane Leather Seat Repairs, Motorcycle Patches Sewn
Milwaukee County Cities we Service: Milwaukee WI, West Allis WI, Wauwatosa WI, Greenfield WI, Franklin WI, Oak Creek WI, South Milwaukee WI, Cudahy WI,
Greendale WI, Whitefish Bay WI, Shorewood WI, Glendale WI, Brown Deer WI, St Francis WI, Hales Corners WI, Fox Point WI
Waukesha County Cities we Service: Waukesha WI, Brookfield WI, New Berlin WI, Menomonee Falls WI, Muskego WI, Oconomowoc WI, Pewaukee WI,
Delafield WI, Mukwonago WI, Merton WI, Lisbon WI, Sussex WI, Hartland WI, Genesee WI, Vernon WI, Elm Grove WI, Summit WI, Eagle WI, Ottawa WI, Wales WI